Custom Pool Cue Joint Protectors Ebony/ Birdseye/ Southwest style 3/8-11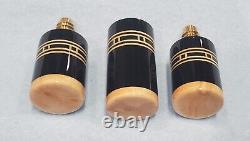 Steve Kornele has been building Custom Pool Cues for 25 years. To see more about him and his work check out his website for many examples and styles/custom orders or the Bluebook of American Cuemakers.
Steve also makes custom order joint protectors. This particular set is Black Ebony with Birdseye Maple tops.
Each piece is accented with maple index ringwork like southwest and black collars. They are made to fit a cue with a flat faced 3/8-11 joint.
Don't settle for a set of cheap plastic caps. Get something that dresses up your cue, adds value and gives it that Custom Look. Thank you for viewing one of my items.