Gina 5/16-18 Premium Pool Cue Custom Joint Protectors New 3 Piece Set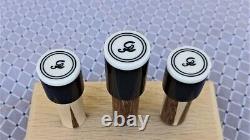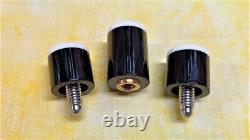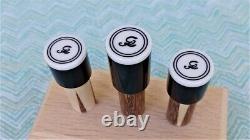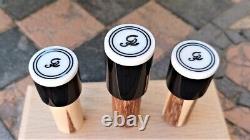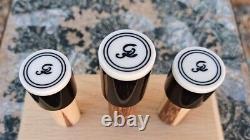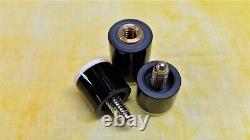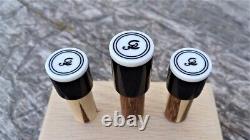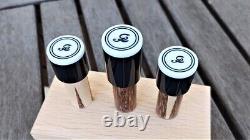 This listing is for a New Premium Three Piece Set of Gina Style Custom Made 5/16-18 Pool Cue Joint Protectors. This is a great looking full black set of Gina Cue joint protectors with Super Tusk caps featuring the Gina logo in double circles. You are purchasing a THREE PIECE JOINT PROTECTOR SET THAT WILL FIT ON ONE POOL BUTT AND 2 POOL CUE SHAFTS. THE PIN TYPE IS A 5/16-18. Our premium joint protector sets are made in our shop from highly figured pieces of wood and other high grade materials. What sets our premium joint protectors apart from others is the high gloss finish. All of our custom sets are made with strong and durable steel or brass pins. The Black Engravings are custom made in our shop. Ernie used a few different pin types in his cues.
BE SURE YOUR POOL CUE HAS A 5/16-14 JOINT PIN BEFORE PURCHASING. Just to be clear, this is a custom engraved 3 piece set of joint protectors, and was not made by Ernie Gutierrez. T his is an: AS IS - ALL SALES ARE FINAL LISTING.
The Specs are as Follows. Butt Protector Length: 1.24 Inches. Maximum Depth for Pin: 1.08 Inches. Shaft Protector Length: 0.83 Inches.
Inner Diameter for Shaft Pilot: 0.56 Inches. Depth of Pilot: 0.22. Engravings: Gina Logo in double circles on Butt / Gina Logo in double circles on Shafts. Color of Engravings: Black Set Number: #220.
BE SURE TO CHECK YOUR POOL CUE PIN SIZE BEFORE PURCHASING. The joint protectors in the photos are the actual set you are purchasing. We post an ample amount of pictures to give a precise portrayal of our product.