Lucasi Custom LZC11 Exotic Rengas/Bocote Rings/Birdseye Wrap Pool/Billiard Cue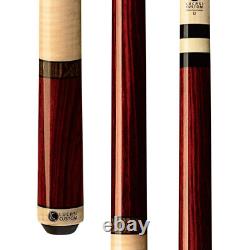 Keith's Billiards - Y2PLAY Stores. Lucasi Custom LZC11 Exotic Rengas/Bocote Rings/Birdseye Wrap Pool/Billiard Cue. The LZC11 from Lucasi features Exotic Rengas forearm and butt with Bocote banded rings, natural Curly Maple handle, Implex & Maple joint and slimline Maple butt cap. This model comes with an added game-changer, the Lucasi Custom Solid Core Low Deflection Technology Shaft. Lucasi Custom Cues brings you beauty and distinction by combining fine craftsmanship and quality touches with the high performance features you need to play a better game of pool.
Lucasi Custom Cues feature shafts made of premium grade 100% North American Hard Rock Maple. Before production starts, the wood used to make each Lucasi Custom Cue is aged and dried for 18 to 24 months in specially-designed moisture- controlled rooms. While drying, the wood is turned and rested more than 11 times to ensure the proper amount of moisture. The wood is then treated with a patented wood stabilizer to protect the cue from additional moisture and help prevent warping for the cue's lifetime. This 12.75mm shaft takes low deflection technology enhancement (our wildly popular Zero Flexpoint ferrule) and a new taper designed by two-time World Champion Thorsten Hohmann; and mixes it with old-school solid Maple construction and the premium Everest tip you love, for a shaft that plays like new but feels like an old friend.
Lucasi Custom Cues are warranted to be free from material and manufacturing defects, including against warpage, for the lifetime of the cue. Brand: Lucasi Custom Item Number: LZC11 Shaft Size(s): 12.75mm Tip: Tiger Everest Joint: Uni-Loc Quick Release Wrap: None Weight Range: 18-21oz.
Doing so is against U. We are unable to honor requests to exclude this document from the order. For items with S&H charges, we will offer combined S&H rates whenever possible. Combined S&H rates will be determined by Y2PLAY Stores upon request. Such locations are not eligible for free S&H under any circumstances.
Items must be in new condition with all tags, packaging, and accessories included exactly as they were received. Some items are not returnable as follows: chalked cues, liquid or aerosol products that have been removed from their packaging, items which may touch the mouth mouthpieces, microphones, harmonicas, etc. If they have been opened or removed from their original packaging.