Lucasi LZC22 Custom Pool Cue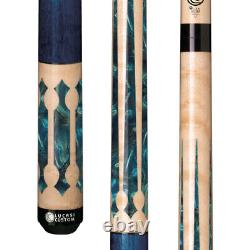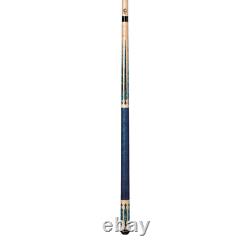 Experience the unparalleled beauty and prestige of the Lucasi Cues Custom Natural with 6 Blue and Gold Points. These cues bring together exquisite craftsmanship, unique inlays, and top-notch performance to elevate your game of pool. Each Lucasi Cue is meticulously crafted using hand-selected premium exotic woods, ensuring a truly custom touch.
The cues feature the innovative Zero Flexpoint ferrule and Low Deflection Shafts, which minimize deflection and enhance your accuracy on every shot. To protect their stunning appearance, all cues are finished with a protective coat that safeguards against scratches and fading, preserving their elegance for years to come. With Lucasi Cues, you not only acquire a cue with a familiar feel but also gain a competitive edge with their superior performance.
Design: Natural Maple with 6 Points Blue and Gold Inlays, Teal Stained Curly Handle. Shaft: 11.75mm Zero Flex Slim Low Deflection. Tip: Premium Tiger Everest Layered Leather. Ferrule: Zero Flexpoint Lightweight Polymer Core.