Lucasi LZC54 Custom Pool Cue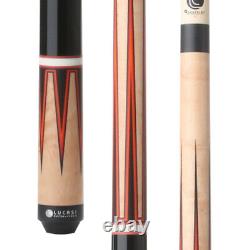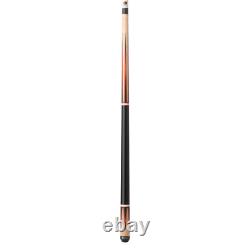 Designed for today's performance-driven players, the Lucasi Cues Custom Hybrid Antique Washed Stained LZC54 offers exceptional performance on the pool table. This cue is equipped with the Zero Flexpoint Solid Core Low Deflection Technology Shaft, which reduces deflection and enhances accuracy, giving you better control over your shots. The Premium Everest tip provides superior ball control, allowing for precise and consistent gameplay. The special pro taper, designed by professionals, ensures a comfortable grip and optimal control over your game. With the precise fitting Uni-Loc Joint, you can rely on a secure and stable connection between the shaft and butt.
Lucasi Cues not only provide a familiar feel but also deliver remarkable true-to-aim accuracy that surpasses your expectations. Take your game to new heights and experience your best performance ever with a Lucasi Custom Cue LZC54.
Design: Antique Wash Stained Birdseye, Red and Orange Veneer Points, Midnight Black Handle. Shaft: 12.75mm 29 Zero Flex Solid Core Low Deflection Technology with Pro Taper. Tip: Premium Tiger Everest Layered Leather. Ferrule: 1 Inch Zero Flexpoint Lightweight Polymer Core.