Lucasi LZCB5 Custom Pool Cue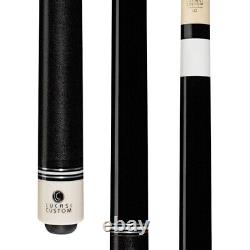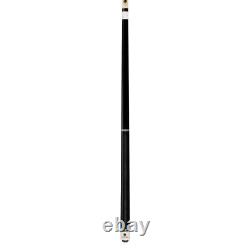 Lucasi Cues are renowned for their ability to enhance the game of pool with their exceptional beauty, craftsmanship, and performance. Each cue is meticulously crafted with precision and attention to detail, featuring distinctive inlays that add a touch of elegance. The cues are constructed using hand-selected premium exotic woods, ensuring a custom and luxurious feel. Equipped with premium grade 100 percent North American Hard Rock Maple shafts, XTC high impact ferrules, and premium leather tips, Lucasi Cues offer superior performance and ball control. To ensure durability, all cues are finished with a protective high-grade coat that safeguards against scratches and fading, preserving their pristine appearance. With Lucasi Cues, you can take your game to a whole new level of excellence. Furthermore, they offer a Lifetime Guarantee, protecting your investment against warpage and providing peace of mind. Solid midnight black with nickel silver rings accented with imitation bone.
12.75mm Zero Flexpoint Low Deflection shaft. White Implex joint with 3/8x10 radial pin. Premium Everest leather layered tip.