Lucasi LZD5 Custom Pool Cue with Zero Flexpoint Shaft & FREE Shipping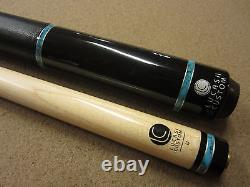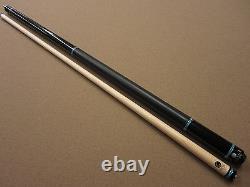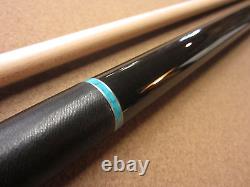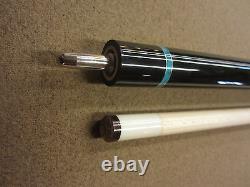 Sexy midnight black forearm and butt with turquois recon ring sets, black double-pressed Irish linen wrap, and black Implex joint and butt cap. This model now comes with an added game-changer, the Lucasi Custom Solid Core Low Deflection Technology Shaft.
This new 12.75mm shaft takes low deflection technology enhancement (wildly popular Zero Flexpoint ferrule) and a new taper designed by two-time World Champion Thorsten Hohmann; and mixes it with old-school solid Maple construction and the premium Everest tip you love, for a shaft that plays like new but feels like an old friend. Tip: 12.75 mm Everest Tip by Tiger. Shaft: Zero Flexpoint Solid Core Low-Deflection. Forearm: Mystic Black Birdseye Maple. Sleeve: Mystic Black Birdseye Maple. Rings: Turquois recon stone accent. Fine Craftsmanship, Distinctive Inlays and Impressive Performance. Lucasi Custom Cues bring you beauty and distinction by combining fine craftsmanship and quality touches with the high performance features you need to take your game to a whole NEW! It is our goal to make cues that will not only look beautiful, but will keep playing faithfully for years to come. At Lucasi we believe quality cue construction starts with quality wood selection. That's why we only use hand-selected premium grade North American Hard Rock Maple for our cue shafts and do not bleach the wood. We want your cue to maintain its beauty and durability for years to come - bleaching may make the shaft appear higher quality, but it damages the wood, making it less durable and more susceptible to warpage, yellowing and breakage. Lucasi Quality Starts With Wood Selection.
The wood used to make each Lucasi Custom Cue is aged and dried for 18 to 24 months in specially-designed moisture-controlled rooms. While drying, each cue blank is turned and rested more than 11 times to ensure the proper amount of moisture. The wood is then treated with a patented wood stabilizer to protect the cue from additional moisture and help prevent warping for the cue's lifetime. Real Inlays for A Distinctive Custom Cue Look. Lucasi Custom Cue inlays are cut using a CNC machine that utilizes lasers to make intricate, precision cuts with zero gaps - resulting in stunning inlays that add a mark of distinction to your cue.
Inlay materials include up to three separate cuts of exotic woods, including: Ebony, Cocobola, Bocote, Rozewood, Curly and Birds-eye Maple, Snakewood, Kingwood and Sonokeling; as well as a variety of metal, imitation stone and shell materials. New Taper for Even Better Follow-Through. Lucasi Custom cues now come standard with a new taper designed by two-time World Champion Thorsten Hohmann for even better follow-through; and a more accurate stroke.
Each Lucasi Custom Cue shaft and ferrule is also coated with a special proprietary coating that creates the smoothest stroke possible. Lucasi Custom Solid Core Low Deflection Technology Shaft Gives Game Changing Results. Lucasi Custom cues now come standard with the Lucasi Custom Solid Core Low Deflection Technology Shaft.
This 12.75mm shaft is a game-changer. We've taken our wildly popular Zero Flexpoint ferrule (previously used only in Lucasi Hybrid shafts) and have used it to update our plain jane solid core shaft. This new shaft takes technology enhancement and mixes it with old-school solid Maple construction for a shaft that plays like new, but feels like an old friend. This shaft is designed to give your game an extra kick by making every shot more accurate and true-to-path. You'll sink balls more easily, and your game will reap the benefits.
Premium Everest Tip for Superior Ball Control. Lucasi Custom cues come standard with a premium layered Tiger Everest tip - this tip holds its shape like a hard tip, hits like a medium tip and gives you control like a soft tip for almost unmatched ball control. Precise-Fitting Uni-Loc® & Custom 3/8 x 10 Joints.
Uni-Loc® joints are the most precise fitting and solid-hitting joints in the world. A Uni-Loc® joint pulls the shaft to the butt with 360 degrees of equal pressure and locks it in place with just one turn, ensuring a precise fit and superior shaft alignment each and every time you connect the cue butt to the shaft.
We also offer a 3/8 x 10 threaded joint on select models for those that want a rock-solid, timeless hit. Protected by High-Gloss Luxury Automobile Finish. Lucasi uses a special high grade high-gloss finish on all of its cues - the same finish usually reserved for luxury automobiles - giving Lucasi cues a distinctive rich, luxe look and protecting them from fading caused by UV rays longer than other brands on the market. Lucasi Custom Cues are warranted to be free from material and manufacturing defects, including warpage, for the lifetime of the cue, provided that your cue is accompanied by a copy of the original sales receipt from an authorized Lucasi dealer. Lucasi Custom Cues does not warrant its products against damage caused by third parties. Be sure to check our. At Billiards Heaven, we strive to offer excellent customer service! We are available Monday to Friday 10:30 a. Please send a message and someone will get back to you as soon as possible. We want to earn your business now and in the future. If you do not specify a weight, you will generally receive a cue around 19 oz unless otherwise requested.
Cue Tip Change : In many cases we can change the tips on our cues to one of your preference. We stock a wide variety of the most popular tip brands.
There will be an up-charge for the labor and cost of tip. Therefore, it may appear that it is not moving, but that is probably not the case. And may have delays especially around holidays or severe weather.
ESTIMATES WILL NOT APPLY TO THESE LOCATIONS. Some Middle Eastern, African, South American and Island Nations may take longer.
Thank You Again for Shopping with us! Monday thru Friday 10:30 a.
Closed Weekends and Bank Holidays. This item is in the category "Sporting Goods\Indoor Games\Billiards\Cues". The seller is "billiardsheaven" and is located in this country: US. This item can be shipped worldwide.
Model: lzd5
Length: 58\
Cue Type: Two-Piece
Weight: 18 - 21 oz
MPN: LZD5
Brand: Lucasi