Sawdust Custom Ebony / Curly Maple Wrapless Pool Cue, Kielwood & LD Maple Shafts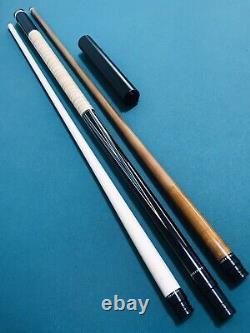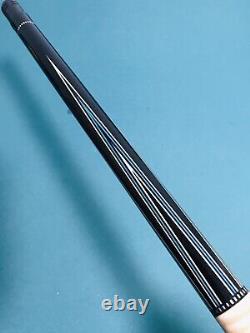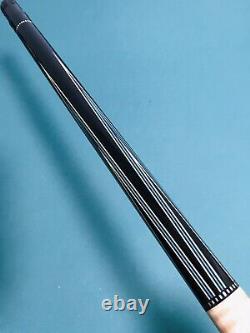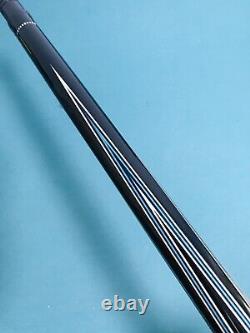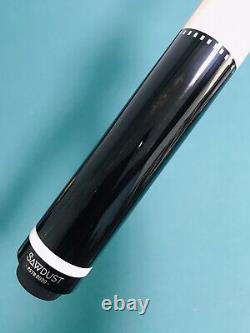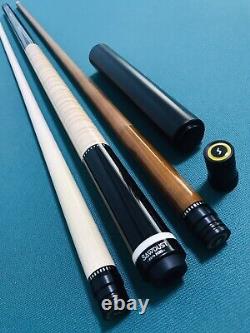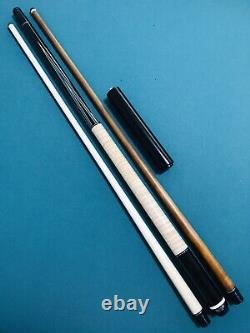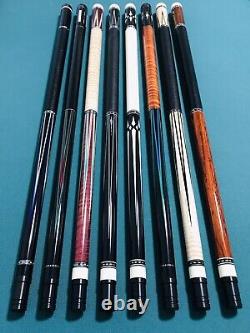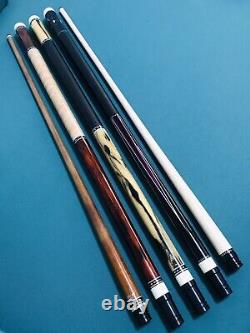 Up for sale is our new 4-point ebony on ebony with slick handle in nicely figured curly maple. Forearm is black ebony with four tall ebony points outlined in five veneers of double blues and natural. The curly maple lends color and contrast to the ebony, with a classic hoppe ring on the base of the ebony buttsleeve. Silver dash ringwork in black phenolic at all positions. Cue will come with two shafts with matching ringwork - kielwood aka torrified maple that imparts a hard and stiff hit with low deflection and great feedback to the hand, as well as our own LD hard maple shaft.
Both shafts have a tip diameter of 12.7mm with a modified pro taper. Our cues have a solid, consistent and resonant hit.
As with all our cues, this is forward balanced with a slim handle to facilitate a good stroke. If desired, this cue is also available with a carbon shaft. 3/8x10 stainless steel pin (0.84 at joint that fits most aftermarket shafts perfect). Silver dash ringwork throughout the cue. Customized joint protectors and an 8-inch black lightweight extension are included.
Check out our FB for more recent builds: FB. Cue is with me in Singapore.
Cue should reach the winner in 3-4 DAYS. Will send tracking photos and pic of parcel. Happy to answer any questions!